The violent terrorist organization Antifa have now begun open attacks against politicians in broad daylight. Five Antifa assailants brutally attacked and beat a German political candidate Stephan Schwarz who belongs to the Alternative für Deutschland party. Schwarz required hospitalization for his injuries. In the context of a 2019 attempt on the the life of AfD's Chairman by Antifa terrorists this could be another attempted Assassination.
Schwarz's official Twitter said (Translated),
"After the cowardly attack by the #Antifa to yesterday's information booth in #Schorndorf Stephan is still in the hospital. He is very happy about that #Solidarität (Solidarity) in the @AfD and among the citizens. He also thanks them from the bottom of his heart for the numerous wishes for wellbeing! (ts)"
Nach dem feigen Angriff durch die #Antifa auf unseren gestrigen Infostand in #Schorndorf befindet sich Stephan weiterhin im Krankenhaus. Er freut sich sehr über die #Solidarität in der @AfD und bei den Bürgern. Er dankt auch von Herzen für die zahlreichen Genesungswünsche! (ts) pic.twitter.com/kBBZhRXy0P

— Stephan Schwarz, AfD (@schwarzafd) February 21, 2021
And later,
"Stephan Schwarz could leave the Schorndorf hospital today after the cowardly #Antifa -Attack. He is doing according to the circumstances. Doctors still ordered rest! His replacement candidate @LarsHaise takes over his appointments. (ts)#AfD#ltwbw#ltwbw21″
Who Are The Alternative für Deutschland Party?
AfD as it is locally known says on their website "We want to permanently preserve human dignity, families with children, our Western Christian culture, our language and tradition in a peaceful, democratic and sovereign nation-state of the German people." Sounds a lot like 'Making Germany Great Again' doesn't it? AfD is widely regarded as Germany's answer to President Trump's MAGA movement, and Antifa is just as violently hostile to them.
Breitbart reports,
"Alternative for Germany (AfD) candidate Stephan Schwarz was hospitalised after a brutal attack by Antifa militants in the town of Schorndorf over the weekend while campaigning for this year's regional election."
"Schwarz, along with several other AfD activists, manned an information booth in the centre of the town on Saturday when they were approached by a group of around 15 to 20 people carrying hard-left Antifa flags and banners, the city prosecutor said."
According to local newspaper Rems Zeitung, The extremists dragged 36-year-old Stephan Schwarz to the ground and beat him while he was down. As he attempted to call the police, one of the attackers stole his phone.
Schorndorf Police arrested five people connected to the attack on Schwarz, three of them outside the town's rail station and two on a nearby pedestrian footbridge. All of the Antifa attackers are between 18 and 25 years of age and are facing prosecution by federal authorities in Stuttgart.
These German 'far-right' types sure look like a dangerous bunch don't they?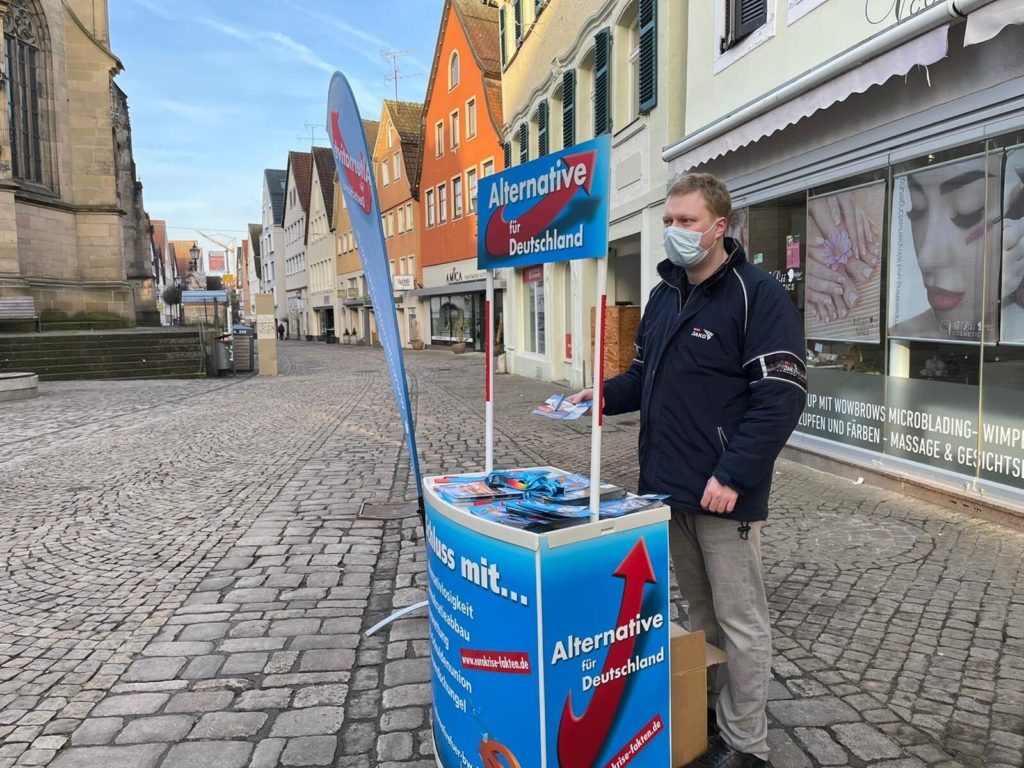 The Latest In Many Antifa Attacks Against AfD
Antifa have been attacking the Alternative for Germany party since it's inception in 2013, this culminated in a 2019 assassination attempt on MP Frank Magnitz, the chairman of the AfD.
Breitbart reports that "Antifa militants later took credit for the attack on the far-left web platform Indymedia, stating, "The anti-fascist spring Bremen announces that we wanted to free the AfD politician F. Magnitz of his fascist ideas on Monday at 18.00 clock local time."
German authorities have expressed increasing alarm over the growing threat of violence from Antifa cells. In a new report they suggest that members may be planning new attacks and assassinations against law enforcement officials and political rivals.
History has demonstrated that the actions of Antifa in Europe, where the organization was founded are upstream and predictive of their American counterparts. This suggests that if Antifa are plotting political assassinations and violent attacks in Germany, the same in America is not far behind.